THINK UTAH STATE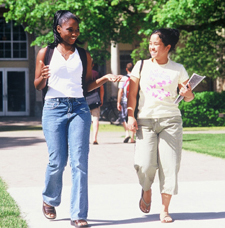 Since its founding in 1888, Utah State University has evolved from a small, agricultural college to one that is nationally and internationally recognized for its intellectual and technological leadership in land, water, space and life enhancement. As Utahís land-grant and space-grant institution, the university has 850 faculty who provide education for more than 28,000 undergraduate and graduate students, including 12,000 in its continuing education sites located throughout the state of Utah.

With seven colleges, more than 200 majors and 130 research-related classes, student-centered, hands-on learning opportunities are plentiful as Utah State attracted more than $186 million in research revenue last year. These research dollars, along with stellar faculty mentors, have inspired more than 1,000 students to pursue their own research projects every year.

Located in the city of Logan in northern Utahís Cache Valley, Utah State is 80 miles northeast of Salt Lake City. The surrounding area, including ski resorts, lakes, rivers and mountains, makes Utah State one of the finest recreational environments in the nation. Beyond Logan Canyon and just another four hours north is Teton National Park and Yellowstone National Park.

The university is a place of diverse thought, where first-rate cultural offerings provided by talented professors and visiting artists benefit thousands of students and members of the community. For the past century, USU has fostered the arts on campus and throughout the Cache Valley area. Visitors and students at the university are treated to a vibrant art scene on the east corner of campus.

Utah State University is home to a world-class Performance Hall built in 2006, where the technical marvels of its cutting-edge acoustics are unmatched. The 20,000-square-foot building serves USU, the Cache Valley community and the Intermountain region and features a 400-seat performance hall, a stage for up to 22 performers and a lobby with glass windows overlooking a plaza. The hallís intimate scale is ideal for small acoustical performances such as chamber music, vocal and instrumental concerts, recitals, readings and lectures. For a list of upcoming performances visit the Caine School of Arts Web site, www.csa.usu.edu.

The Nora Eccles Harrison Museum of Art is located in the Fine Arts complex and houses the universityís permanent art collection that includes some of the best contemporary art created west of the Mississippi River.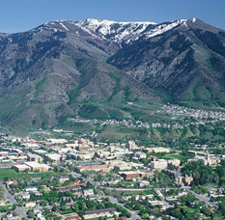 Utah State University is a safe place that provides a unique living-learning community and is the oldest and largest public residential campus in Utah. The largest public residential campus in Utah, USU offers a variety of living options to the nearly 14,000 students who live on or near campus throughout the year.

The many benefits of campus life, such as Theme Housing, activities, student involvement, location to classes and many others, are designed to create the ultimate college experience.

Utah State University has six fraternities and four sororities that involve nearly 300 students with opportunities for personal growth, networking, community service and respect for learning.

With the wide variety of classes, extracurricular clubs, activities and recreational opportunities at Utah State University, it is no wonder students look forward to returning to campus year after year.